The Garage ain't the ideal environ for squawky Vancouver rawk duo
Japandroids
to take to. Its toilet floors unblemished by the scummy erosion induced by incomprehensible urinary misfire; its walls plastered in woefully Photoshopped posters vainly attempting to entice to some inconsequential show from an ever to remain unheard of: put simply it's a venue more sterile than many a hospital bed. Its upstairs is air-conditioned for fuck's sake. But this is the last night of a frenzied UK tour which has taken in three London dates in the space of a week and, as the squiggly sweat-haired Brian King persistently avows, they're in the mood to unapologetically "destroy the place." And who the heck are we to stand in the way of an unrestrained luminary, the beam puked across his face throughout as indebted to the intake of oz upon oz of JD as it is to the innate mirth located within imminent LP,
Celebration Rock
.
If the Loft Party inanity of the pair's newfound bud
Cadence Weapon
instantaneously seems unwisely bypassed, witnessing King thrash out some distorted gobbledegook on a trashed up Telecaster endears similarly instantly, even during soundcheck. Eager to rip through the thing proper – although perhaps predominantly to curtail any "time to get drunker [
sic
] than we already are" – to tear through
Post-Nothing
acme The Boys Are Leaving Town straight up like Godzillan fiend romping through British Columbia's most substantial city may seem misjudged, were such intemperate recklessness not followed up by such unrelenting exhilaration in place of any form of mild hangover, either musical or muscular.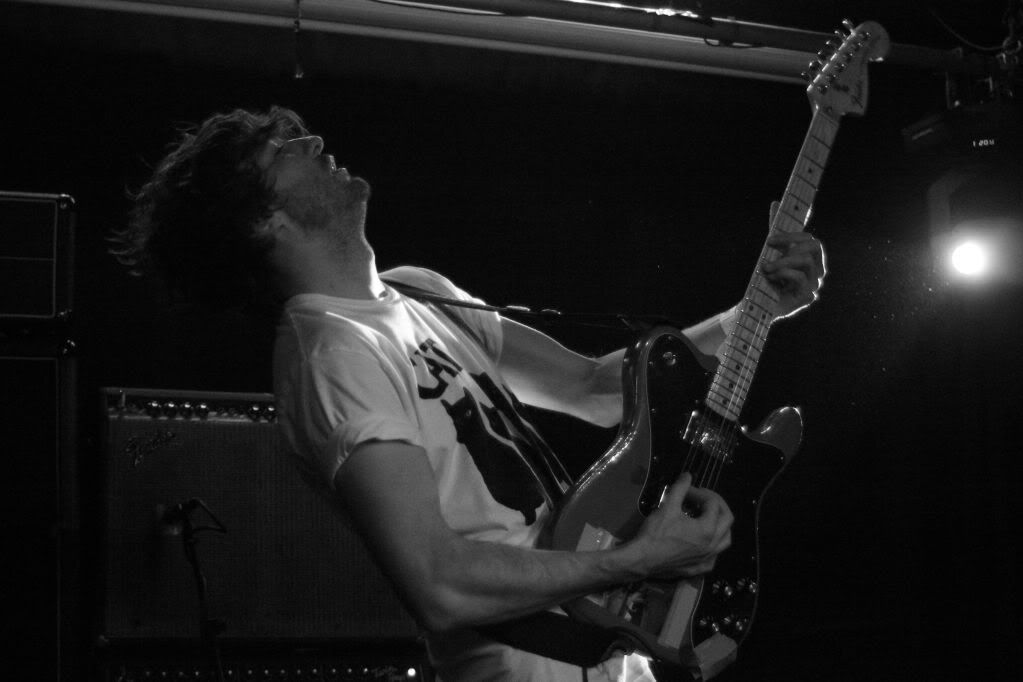 For whether flinging both he and his perspiration-saturated fringe about the place or falling through David Prowse's drumkit, points at which King pauses for the odd gulp of deeply humid air seem all but entirely obligatory in order that enough oxygen may return to the bloodstream for the spewing of the X's and O's of Heart Sweats or the Springsteen-educated-by-Schreifels'-Rival Schools stomp of Fire's Highway. This oscillating between old and new is concerted and remains a consistent theme throughout so that they may evade even the slightest stultification. Attentive to our entertainment, obviously. As such, the stodgy turbulence of Wet Hair is counteracted by the more polished clamour of Evil's Sway (furnished with a drum solo introduced by King as though he may then incite to not delay but buy today); the radiant clatter and boozy idioms of Adrenaline Nightshift are invigoratingly offset by the mellow ebullience of Rockers East Vancouver. Equally consistent is King's general appearance: his face rarely more than a fleshy blur, he basically embodies the 'face-melting' locution. "It's the last show of the tour! No excuses", he slurs from a black splodge within said blur as they fall into the prickly brilliance of "the hardest set in the song to play [again,
sic
]", The Nights of Wine and Roses. As King and Prowse bat vocals back and forth as though in a rally warmup, the set begins to simmer, boil, spew and overflow as they're now up against not only an initially mildly apathetic bunch but also a wearying exhaustion. "It's fuckin' hot up here", King confides in a nearby photographer as he stoops in the shadow of his
five
amps, prior to slipping out a lick from Metallica's One although both impediments to both their and our enjoyment are eventually overcome as tonight transpires to be one upon which to crack open the proverbial and lavish the twosome with finely aromatised florets.
Irregardless of the quantity of such seemingly excessive gear, quality remains a latent concern: "All our equipment's so shitty!", he mouths over the crackle of a deafening static and, as though expelled from loosened bowels, the latter stages are more outpouring slew than discontinuous song as Crazy/Forever – the stage promptly invaded by the finest of marauders who first duets with King down the same mic and then swills down the last of the bourbon – and Sovereignty and Young Hearts Spark Fire are discharged with electrifying verve. Of such a rambunctious finale King rhapsodises: "This song means something to us. Hopefully it means something to you too" and although the lyrical profundity pertaining to Japandroids may never be rampantly inspiring, even in this ill-fitting area it's been one heck of an end-of-tour Loft Party and indeed, for once, there's never been any hope of anything audible – inevitably inclusive of Sondre Lerche's ruminative
sanger
– banging up on the floor from below...