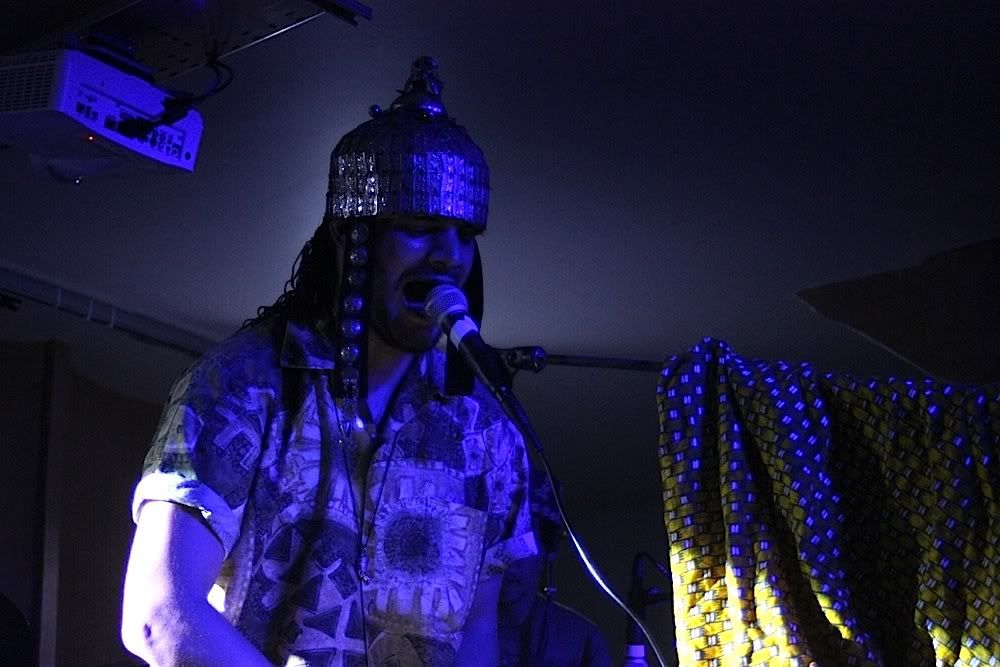 Once something of a misanthropic haven bloated with more kebab houses than the "ironic" backpacks and boating shoes of nearby Shoreditch, Dalston has, to all extensive purposes, merely become what many round these parts may brand "another one of
them
". Whatever that may mean or to what
them
may refer in the first instance. Gentrified to an almost sinister degree, the majority of any originality and with it diversity has been wiped off the essence of the district, just as the spacked up glass bottles, fag cellophane and whatever else has been swept from the streets below Brothel Creeper-elevated feet. Parodic to the point of meticulously crafted pastiche, it's a slight shame. Birthdays too, a venue seemingly erected "about an hour ago" (the words of Islet's Mark Thomas; not ours) keeps any character it may have plausibly had to a concerted minimum. Fragranced with the all-pervasive stench of plaster never even so much as designed to last it feels like XOYO, were its similar soullessness uprooted from Cowper Street earlier on in the afternoon and unceremoniously dumped down in Dalston. It's new, and clean, and pristine, and precisely what you'd never want from a venue. Kamal Rasool's
Flamingods
, conversely, embody everything you could ever want from a band and more.
In an epoch in which who sounds like what and what sounds like who predominates, Rasool's madcap percussionists faith-restoringly shun such ultimate irrelevance in favour of spazzing out on a series of drums exotic and ethnic or otherwise. Having originally bonded as a band over bongos in a Butlins chalet, they're vociferously animated to be playing their debut ATP show and the ethos of both their humble, fuzzy-rugged, carpet-burnt beginnings and the festival itself seems instilled in the band as they sprawl out most literally
on
stage. Whether it be the gloopy entrancement of Kinich Ahau or the luscious and lustrous hypnotics of Sun, irrespective of the inoperative keyboards and the odd ill-timed percussive thwack it's as though the five-piece are joyously dangling from the bristliest of beards; the sort in which Noah Lennox nests and the Sun Ra Arkestra reign supreme. More wild, rough around the edges and unkempt than in any way clean-shaven (the instrument merry-go-round clambered aboard and spun throughout reflects such slack), they resemble wearied nomads from the deserts of the now-deserted mind of George Lucas and Rasool, adorned in glinting tin regalia, corresponds to the self-coronated king of the fictitious planet; the dictator demented by the spirit of Avey Tare and now in the final throes of a self-aggrandising power trip. For although Dalston may have already temporarily relocated to Barça, sat at Islet's right hand, as they amble off into some fantastical realm bereft of melody and disconnected from harmony in their closing minutes Flamingods are keeping things warm, regal and royally powerful.