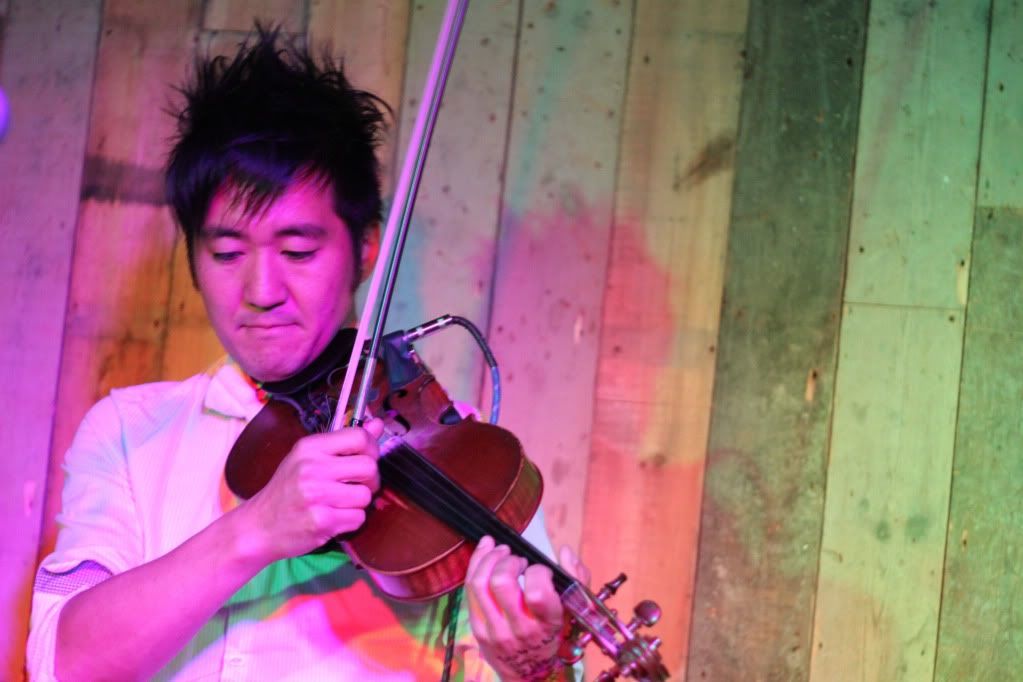 The Waiting Room is, generally speaking, an unenviable place to linger: shuddering gusts pass through its poorly hinged doors incessantly and irksomely; the floor is scarcely discernible beyond a crusty gloss of crud; malingerers squirm atop sticky benches to the left, to the left and to the right. Field Day's newly acquired Stoke Newington haunt of the same name is, however, a rather more inviting environ, its walls embellished with faded tiles and incongruous planks of floorboard. Factor in the fiddler in the basement, of Montreal's unsung superlative
Kishi Bashi
, and you've suddenly got something the hordes may soon clamour for. The atmosphere's certainly arousing, even if it may predominantly be due to the presence of various members of Kevin Barnes' avant-pop brigade second-guessing the setlist that's scribbled on the dorsum of his left hand...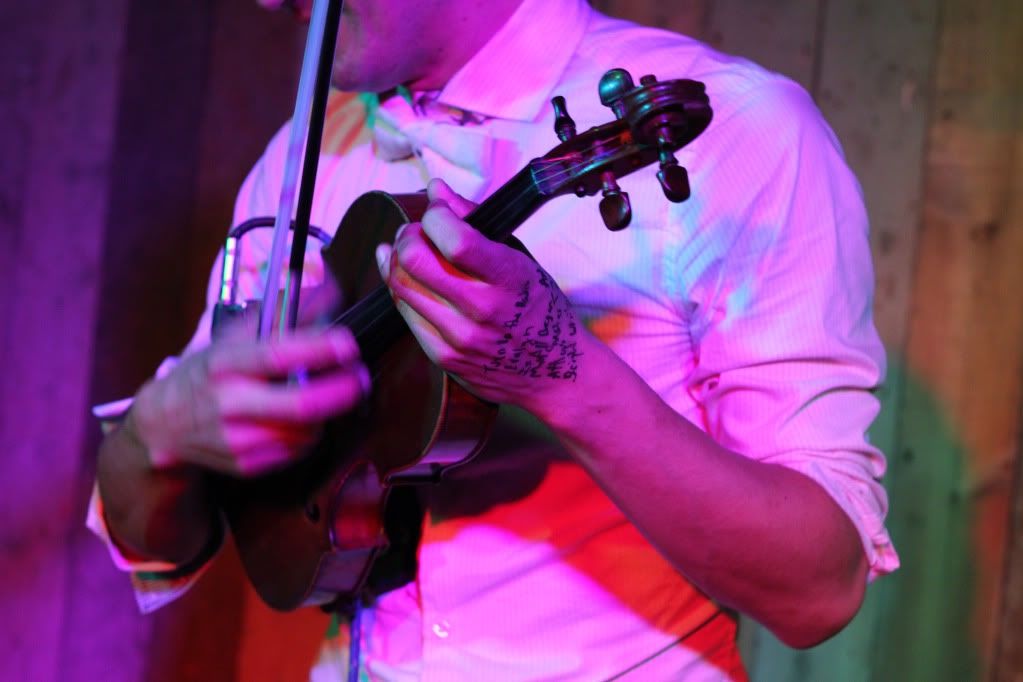 As Barnes' sometime right-hand man, tonight procedes of Montreal's bandstand busk round the back of Holborn and preludes their Koko showing the following soirée and rather than wince the night away in an inebriated oblivion, K Ishibashi opts to enthral at his London debut. His first full-length
151a
, copies of which are tonight flogged from an agape suitcase stage-left, was something of a luxurious listening experience that perhaps amused more than it amazed although tonight afforded the undivided attention that these sorts of instrumentally direct shows worthily attract, and with the songs injected with K's contagious enthusiasm heady climaxes are both potent and plentiful. It All Began With a Burst soon slips into a wondrously haywire descent as loops trip over one another, Bashi's bow tie tilts to a rather askew slant and his bow is fiendishly waggled like the nonchalantly flicked spike of an underground commuter's umbrella one moment and like the baton of a fraught conductor orchestrating the fanciest of footwork atop the pedalboard below the next.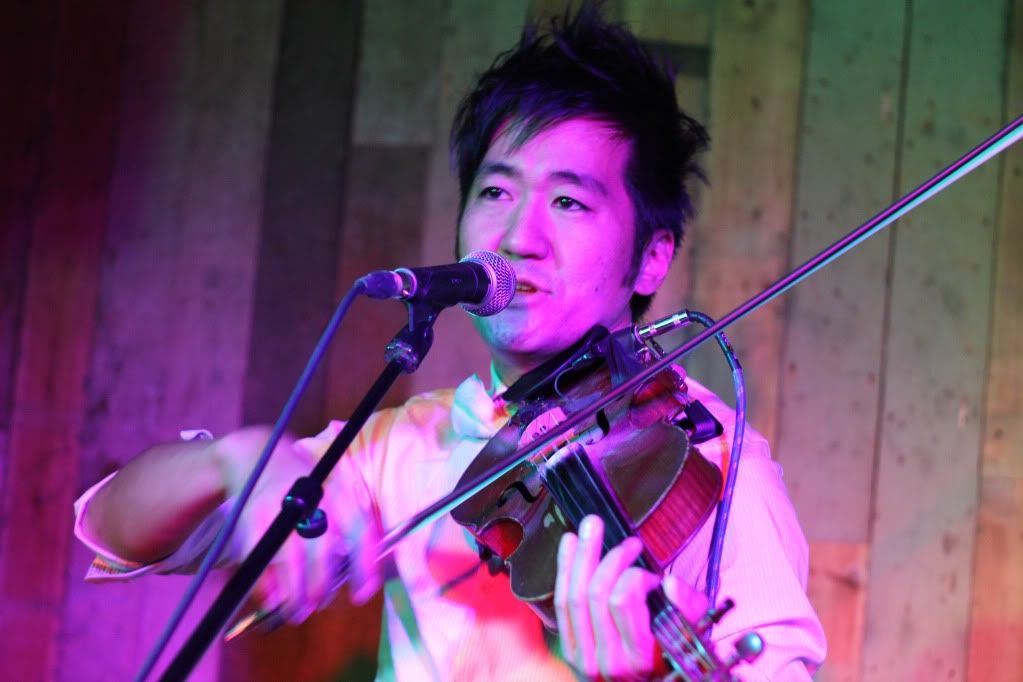 The tender undulations of Manchester perpetuate the Owen Pallett parallels whilst the Enya undertones of I Am the Antichrist to You ("a love song. Of sorts..." K hesitantly confirms) never quite set the mind out to sail as they may on record although the greatest joys are extracted from the least likely sources. Evalyn, Summer Has Arrived for instance, if a little like faux-folksy Patrick Wolf twiddle on record (
or at least Bandcamp
) becomes explosive bombast of beatbox and impassioned swoons of string, its a capella-cum-baroque pop middle 8 strangely Shakespearian. It's rendered fleshier, fuller; that left hand's every slither up the neck of the violin flashier and consequently more seductive, if never showy. There's even the inclusion of a wholly improvisational interlude that "could suck, could be alright, or could be pretty magical." Thankfully it's an off-piste lunge somewhere down between the latter two possibilities where Bashi opts to phlegmatically glide, cawed harmonies redolent of Dirty Projectors' more outré compositional work wrapped up lovingly in abundant blankets of string. It's a debut that, barring the ribald smut of Just The Tip (the track false started twice as the "concert hall reverb" that envelopes K's vox belies its inner filth), would make most parents proud and as a mangled interpretation of Bright Whites warbles to a halt and every loop is tied up our neoclassical necromancer seems jubilant, if deferentially so. For if the word virtuoso these days be perilously trivialised by excessive application Bashi is worthy of such billing and indeed so too of that aforementioned concert hall booking.