The subdued sibling packed off to Lulworth Castle, Dorset in order that
the mildly hedonistic peccadillos of its more established elder on the Isle of Wight
be evaded,
Camp Bestival
is, as Sly Stone once proclaimed, a Family Affair. And it's arguably all the better for it, as this year's bill coincidentally boasts nigh on every original R&B stalwart (provided both alive and active, and just shy of Sly), whether that be in the dreadlocked form of
Nile Rodgers
or the somewhat more well-rounded shape of
Al McKay
.
Last year's bash was something of an emphatic sensation
and next month's, taking place between 26th-29th (July), looks little different. Here be our subjective highlights in the usual Fest Bests format..
Adam Ant & The Good, The Mad and the Lovely Posse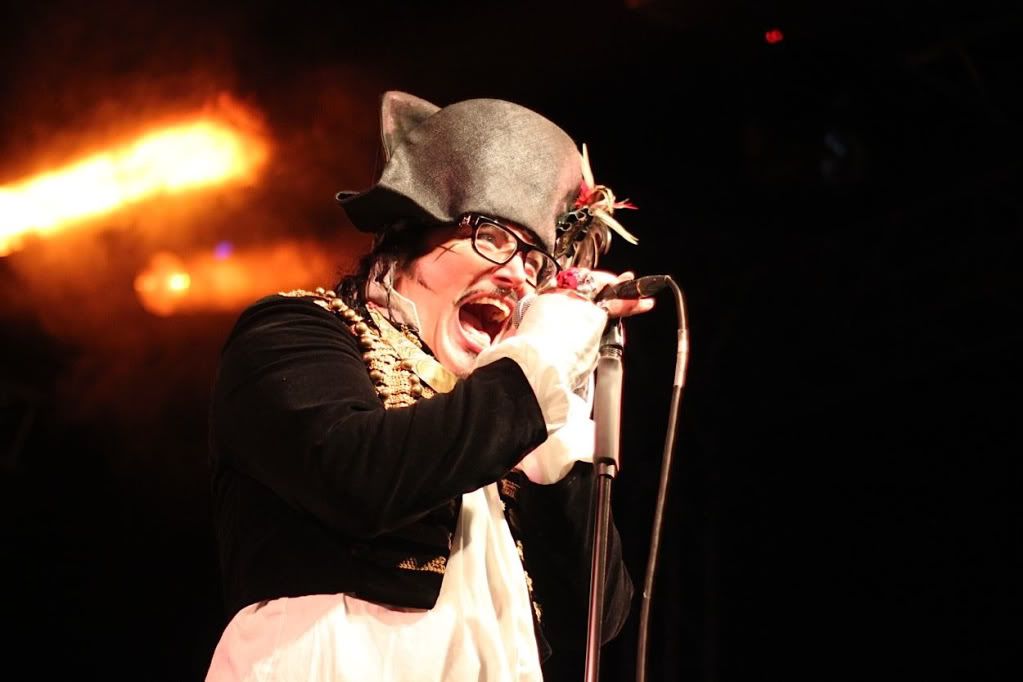 Who:
HRH of antagonistic Antmusic, Stuart Leslie Goddard.
Why:
With that now-infamous Good, The Mad and the Lovely Posse in tow
Ant gave a fairly good, if only spasmodically great reappraisal of the self at The Apple Cart
. However with the unexpected tendentiously expected, anything could happen down in Dorset...
When:
Friday.
Chic feat. Nile Rodgers
Who:
The Trammps may well have penned the thing but Nile Rodgers'
Chic
are – at least for they that perceive the world from behind eyes coated in reflective, five-pointed plastic – the firestarters of anything infernally disco.
Why:
Kicking off the sort of
Saturday Night Fever
to have Gibb jiving from beyond the grub of the grave, the prospect of Le Freak, I Want Your Love and Everybody Dance couldn't possibly be conducive to anything but categorically Good Times.
When:
Saturday.
Earth, Wind & Fire Experience ft. Al McKay
Who:
Alongside the above and Robert Bell's naff, if seminal funk troupe
Kool and the Gang
Al McKay et al. are to furnish yet more feverishness on Saturday soir as they bring the
Earth, Wind & Fire Experience
to things.
Why:
Perpetuating the roll of the Good Times aforesaid, observe an inevitably mucky moat transmogrified in Boogie Wonderland to the sound of After the Love Has Gone, September, Shining Star etc.
When:
Saturday.
Frankie Rose
Who:
She once of Girls both Vivian and Dum Dum,
Frankie Rose
lavished upon us a quite Odyssean work of warmly electronic lusciousness in this year's
Interstellar
.
Why:
Observing whether it'll gleam radiantly live as did
Sharon Van Etten's Tramp
or
flounder limply à la Ekstasis
is worthwhile reason enough in itself, we'd propose...
When:
Saturday.
Breakfast with Henry (
Henry Rollins
Spoken Word)
Who:
Hock-necked Henry was once an ice cream vendor, although he of course later joined Black Flag to melt away some non-conformist preconception.
Why:
Feeling neither easy nor enlightened come Sunday morning, roll into something meaty with Rollins who's sure to pick up
where Howard Marks left off last year
.
When:
Sunday.
Hot Chip
Who:
Kitsch, quirky yet irrefutably creative in a mainstream kinda way, the return of
Hot Chip
is timely what with the estival season now rearing its typically sodden head.
Why:
If certain someones out there contend that
In Our Heads
is precisely where the quintet's latest LP ought to have rested (
we challenged to contradict, by the way
), abandon the pretension for one heady Friday nacht.
When:
Friday.
Little Dragon
Who:
Swedish electropop polymaths, and
one of the finer acts almost always sure to be plugged into the live circuit
.
Why:
Why the bloody heck not?
When:
Sunday.
Ren Harvieu
Who:
Glasvegas-approved songstress who, after a few unfortunate false starts (chiropractic or otherwise) released chart-scorching debut full-length
Through The Night
last month.
Why:
1) Don't let that initial endorsement detract from her unarguable talent. 2) Yes, it's endearing to see someone
still giving two hoots about album charts
. And 3) that bloody voice.
When:
Sunday.
Further info on the Dorset shindig can be found over on
the official Camp Bestival site
, whilst
a variety of family-friendly ticketing options are available here
. Celebrate good times, crap weather etc.