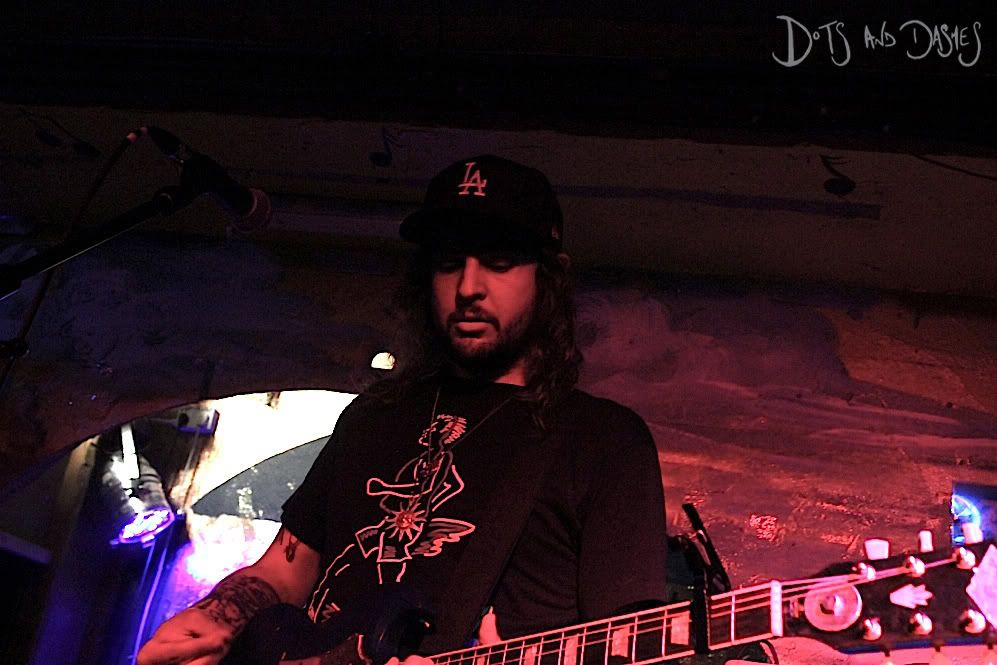 Inadvertent or otherwise, there's some kinda uncanny similarities between your average Dalstonite and your clichéd, quintessential frat boy. Both quite bluntly equate to the scrawny, middle class white guy of their respective environ (read "boi" in the case of the former, given the district's Hackney postcode and whatnot) – the breed to adopt immediately unnatural terms of endearment ("dude", or "bro", or "bb" maybe), drink inestimable amounts of lager from plastic chalices, and flaunt franchised baseball caps atop lobotomy-inspired hairdos in our case and squiggly, greasy locks in theirs. Settling on the indeterminate team with the snazziest logo, who the heck cares who they may be. But then again, blithe disregard may be deemed the default mindset down in Dalston anyway, right?
If
Virals
inadvertently soundtracking a drab England World Cup qualifier may be something of an outré experience, that later barfed up by Sub Pop's dishevelled heck-raiser
King Tuff
may be seen as something considerably more straightedged. Worcester's Shaun Hencher – the former – sounds as though frantically attempting to unshackle himself from the country to which he's intrinsically tethered and, in slurring of girls in smutty magazines in a thick, yet nondescript Yankee accent he has at least one corner of the storefront bar longing for some ITV commentary.
Kyle Thomas meanwhile – the latter – is so jacked up on the exhaust fume-scented essence of America that he resembles the unrecognised sovereign of the frat party, and as we discard class divides – or a lack thereof – the Shacklewell back room becomes unified in the aesthetic of the finest carouse never to have happened back in some once salubrious college dorm. Crowd surfers-cum-impromptu compères drift mere centimetres from cranium impalement on the sawtoothed spotlights dangling overhead, copious amounts of drunk gets drink, and the superficialities of the world beyond these four walls blur into irrelevance amid a rash pandemonium. It's the first night of Tuff's tour although if there's this much reckless immoderation to be had every night, I'll have what he's having. And gallons of it.
For Thomas is the indubitable instigator of all this regurgitated punk anarchy, his guitar stumbling lopsidedly through bulldozer opener Anthem; staggering punch-drunk around the lickety-split riffs of Stranger; veritably drooling the feral solos of Keep On Movin'. Lyrically, Tuff proves lovably puerile too and as the few hundred here crammed yodel: "I'm a bad thing!" as though their next beer were to depend on it, we disconnect yet further from whatever it was that we were doing before stepping into this unadulteratedly fun mêlée. And then Tuff swaggers into
Alone & Stoned
: the sentiments of a seething grounded teen refined and relayed in a couple frantic minutes, it's his pièce de résistance and one to lust after for life. It engenders the umpteenth stage invasion and, alas, the passing of this most simple of pleasures. An unprecedented encore sees the man unleash Animal, this one dedicated to his newfound, rabble-rousing "friends" – many of whom appositely typify the wild, "reckless child" referenced within – and with a sponging of the brow with an already sweat-doused sleeve, he blunders outta sight.
As do we as we return to the monotonies of the world, the only discernible remnant of this joyous raucousness our literal pocketfuls of booze. All hail the King etc.