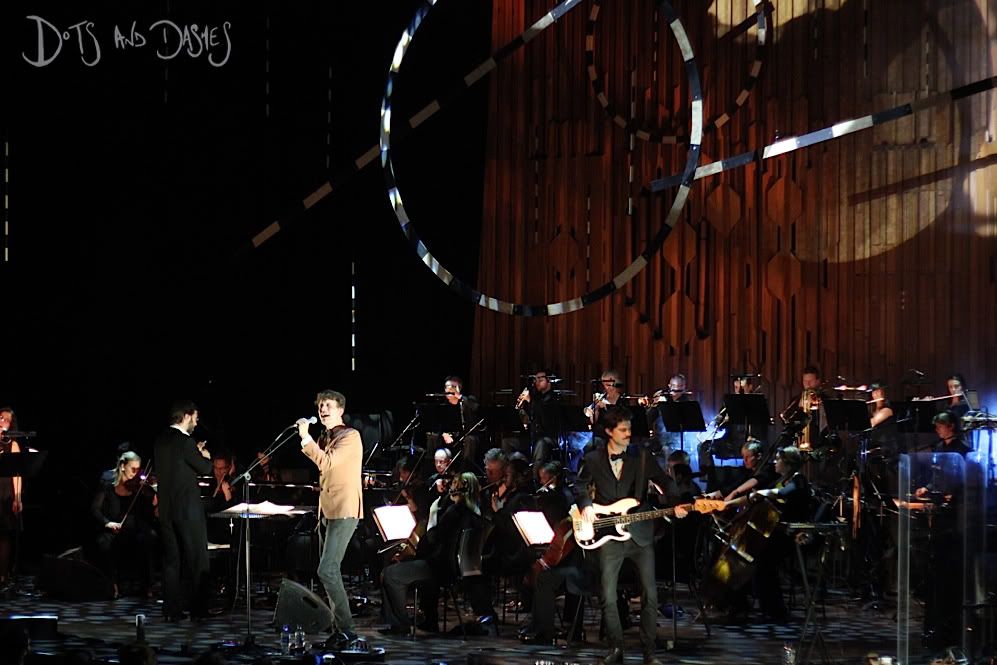 The enduring journey that is
Piramida
may have begun in an August in a realm all but bereft of conventional shifts in season, but its overall effect was one akin to Blumenthal's famed Hot and Iced Tea speciality.
The record is infinitely more wondrous of course
, and serves as an opus of stark juxtaposition – oft both heartwarming and spinal cord-chilling all at once. It seems apt, therefore, that although prickly winds may swirl about the Barbican Centre, within its brutalist gizzards resides a stifling warmth that is generated both by an almost unduly overworked central heating system, and a most avid audience. I, personally, have waited quite some time to bask in Clausen & co.'s reportedly startling live performance, and yet I could never have foreseen something
this
spectacular.
In many respects,
Efterklang
are operating on planes and in ambiences few have previously charted. As such, it is of little coincidence that
Piramida
was baptised thus in remembrance of the derelict Russian mining ghost town where many of its sounds and subtlest of samples were snared all those seasons ago. But to revert to tonight, the show goes by the suitably grand designation of
The Piramida Concert
and, abetted by the 32-piece Northern Sinfonia, if the defining parameters of what may be deemed a concert or what would be better described as a gig may sometimes be somewhat ambiguous, tonight this is most irrefutably of the latter category. And with that, one of great definition. It's one for the red wine quaffers; those with a penchant for an askew bow tie from time to time. Some wear waistcoats; others weathered, moth-scoffed cotton.
John Grant
, however, is in his now customary oversized button-up. Flurrying gushes of agitated classical prelude his appearance, adding a worrying gravitas to reports read of Superstorm Sandy as it shreds America's East Coast. Efterklang recently staged a since revered
Piramida
showing at New York's Metropolitan Museum of Art and I must confess to being relieved that they too are tonight this side of the amalgamated drops of the Atlantic Ocean.
Whether Grant is still living over yonder, though, is unclear. In the wake of the successes of
his stupendous Queen of Denmark LP
, he's now a man in demand, having latterly recorded bits and pieces with Andy Butler over in Berlin prior to Butler hauling him over to these parts for
Hercules and Love Affair's contribution to Antony's Meltdown last August
. He's spent these past ten months piecing together a follow-up over in Iceland, before being again beckoned over to this nonpareil city of ours at the personal invitation of Efterklang. His concise set is "the little storm cloud before the sun breaks through the clouds" in Grant's own gruffer than Rhys words. In mine, he's like a more endearing Chilly Gonzales with a more wry, and generally less vexatious sense of humour.
It's humour that prompts hysterics coughed into clenched fists as synth interludes representative of "the absurdity of a relationship" whoosh forth from his key-skipping fingers, thereby dispelling to a degree the gloom inferred in his premeditated, and with that stuttered metaphor. New material comes inspired in equal measure by the glacial landscapes of the island upon which it was honed, and perfected, and eventually recorded as it does the socio-politics of his native America, a United States currently in "social diarrhoea mode." Yet the affected, sedate balladry of Glacier and It Doesn't Matter To Him (during which Grant shows vital signs of mellowing as he croons of singing "to lovely people all over this lovely world") remains supreme, and quintessentially
him
. Though the most intriguing aspect of his performance derives from its distorted parallels with the work of they that invited him on over.
Clausen recently spoke of the innate similarities between the compositions and spectral musical structures of Efterklang
, and their bespoke opening act. He wittered on of his eagerness to witness how the pairing may work and whilst a warm reception indicates an unassailable crossover appeal, he's quite right in that the two go together like honey and lemon as both approach a gently existential songsmithery with a deft lightness with both, similarly, having recently temporarily relocated to glacial environs in order to record. So yeah, in essence it makes for a match made somewhere celestial that is subsequently played out in these thermometrically infernal surrounds.
Although tonight is about one record, and one record only. We're here to be transported off to
Piramida
as Efterklang and the Northern Sinfonia transpose far and away 4AD's finest 2k12 release up into heavenly symphony. "You may congratulate yourself on having the impeccable taste and foresight to come here tonight", Grant meekly gushes and as the sense of the momentous begins to abound, it swiftly becomes apparent as to just how right he is.
The Barbican Centre is a venue in which Grant has longed to perform. Efterklang already did back in '09, although surely not so spectacularly did they then enthral. For as Air's Alone in Kyoto subsides, the Northern Sinfonia shuffle onstage. They tune up as the lights go down, the increasingly harmonious sounds they emit setting the tone. It's one of collaborative synchronicity; the stirring impact of so many human beings all pulling in the same direction toward an untrodden promised land of untapped fulfilment. Strings begin to scuttle in jabbing movements of flustered staccato as even this unorthodox overture of sorts assumes the feel of something symphonic; something
Pyramiden
.
And we then begin.
It takes time to reconstruct the monumental sounds they tonight call upon, just as it takes time to compose the orchestra itself. Clausen, Mads Christian Brauer and Rasmus Stolberg are backed by 37, and it's therefore of little wonder that it takes a short while for this machine to boot up. But once its every cog-like component starts to churn, it judders into a great joie de vivre smoother than the most lucid stream of consciousness. It is the synthesis of man and machine; the organic and the electronic employed at its most symbiotic, as ears are left unsure as to which of the two each slight idiosyncrasy belongs and where it's coming from onstage. Throw three female vocalists into this sublime mélange,the and you've further balancing that greatly disorientates at the very same time.
They coo those opening wafts of Hollow Mountain, before it veritably erupts at the acute point at which Clausen first howls that unforgettable refrain: "Do it, do it, do it, do it/ Do operator." Peter Clarke's deadpan snares are made remarkably prominent, thereby further propelling this grandest of introductions to an inevitable eminence, although it's Casper who here fascinates. Alluringly debonair, there's a sophistication and inimitable urbanity to his somehow droll vocals. He is the charming man of the piece; a personification of resolved tranquility deep within the bowels of this beautifully brutal arena – bowels now stuffed with the most overwhelming polyphony perhaps ever heard outside of the context of the BBC Proms. It's utterly, utterly incandescent as dangly geometrics and crisp projections lend a visual precision as unerring as that of the music, whirring and combining to resemble a cosmic mobile. It's all as meticulous as the most poised of quiffs, and these methodically refined shapes carry a kind of
double entendre
for in Efterklang's native Danish language,
Pyramiden
is the Danish term for 'the pyramid'. This is the jigsaw falling into place, and it's absolutely mesmeric.
The syncopated marching of Apples follows, as it does on LP, and is frenziedly directed both by the flickering baton of Northern Sinfonia conductor André de Ridder, and Clausen alike. At times there appears a slight disconnect between Efterklang and their "backing band" to place the idiom in the loosest of inverted commas: the orchestra cluster around de Ridder like fledglings about a feeding progenitor and although Clausen and Stolberg may be out front, Brauer meanwhile finds himself up top and out back. But Clausen especially is visibly chuffed with the whole thing too, and despite the sheer spectacle of it all it's the music that of course strikes the most resonant chord. Stolberg is all smiles, whilst his bass lines are unfailingly sublime. They are, as with the flat rhythms that brought Hollow Mountain into being but moments ago, made more focal as this dichotomy between warm and cold located innately within
Piramida
stumbles bleary-eyed to the fray. It's accentuated and momentarily exacerbated by this increased impetus on the drums and bass as the finely practised loud/ quiet dynamism they aid in underscoring again reflects this sense of estimable symbiosis. Personally, I immediately found Apples to be one of, if not Efterklang's most accessible piece, and tonight Clausen steps back to observe and indeed admire his newfound collaborators, as well he may. He seems stately; courtly even, as though gazing out over some windswept, snow-encrusted estate. He's lost within the inundating majesty of its closing coda and as his comparatively insubstantial vocals struggle against its voluptuous swells, he just about keeps in it.
This is emotivity at its most expansive, and yet he seems to be at an envious ease with it all. His great onstage comfort is greatly commendable, and indeed he continually addresses the Hall as though he were recounting his recent wide-eyed explorations in the front room of his parents' house. His voice, meanwhile, assumes the role of that of a young and humble boy lost out in the unconquerable expanses of Spitsbergen, here of course in turn represented by such lavish soundscapes. And this interpretation in itself reflects his own personal association with nature.
When we last spoke, he told of his changed perception since the troupe first visited Piramida; of how he now can't help but recognise that "as a man, you have to come to terms with not being able to rule it."
It's not that the sounds of, say, the ice-dusted winter hymnal that is Told To Be Fine are unruly in any way. They're endearingly sedate, in fact, and ever more so beneath the gelid hues of azure spotlights. Although there's a sense of both song and staging too ultimately being uncontrollable, and greater than any one man.
The show is, quite indubitably, a case in point of a spectacular being far greater than the sum of its parts. Efterklang may be a repeatedly dumbfounding band, but the
Piramida
project now feels
bigger
than its authors. It can no longer be harnessed now unleashed upon the world, and stands as their most complex and compelling piece yet conceived. Even Sedna, a low-lying plateau on record, tonight becomes an imperious peak: Clausen resides in the shadows, allowing a heady maelstrom of 88 strings to send a sweeping, wintry essence whistling across the stalls. A cappella, he soughs as though a creaking tree, its spindly branches iced and heavily frostbitten to cap off a dramatic surge of these elegiac strings and electronic pulse with a pained wail. It's unfeasibly superb, and warrants a kiss off Clausen for de Ridder in a rather more physical portrayal of the affinity they've struck up this past week. By this point in time, I'd reckon most of us would be more than happy to smooch both men ourselves.
Physically distanced and perhaps a little aloof, Clausen continues to oversee what is tonight
his
orchestra by worming his way in and out of its aisles, pews, and strategically geometric positionings. In doing so, though, does he perhaps distance himself slightly from an audience that remains steadfast in its doting admiration throughout? Perhaps. But the more striking revelation concerns quite how simplistic and almost lo-fi much of the record could be were it stripped of orchestral embellishment. If they ever tire of these surrealist realities of grandeur, it'd be commensurately provocative were they to revisit these tracks as a trio. We'd doubtless still be around to observe. And to a degree, this is what happens with The Living Layer: slowed right down and allowed to build to something eventually yet more glorious and multi-sensory than an Opening Ceremony, the theatricality of the production here comes to the fore. The piercing, bedazzling glow of the Northern Lights is flushed out from beyond the Northern Sinfonia as the show's human components behave according to theatrical typecast: some mischievously swig in the background, whilst others attentively pander to the prescribed swizzling of de Ridder's wand. Although crucially, the show goes off without a solitary hitch.
A slo-mo, languorous fanfare then serves as an extended coda to this The Living Layer. Entitled Vaelv, it was commissioned by Efterklang and written and arranged by longterm collaborator Karsten Fundal. It comes suffused with mournful parps of brass and snippets of gull squawk (samples that hark back to the field recordings recorded out in Spitsbergen that went on to lay down a fundamental foundation upon which this record was built) and sees the conventional 'rock' instruments laid down as this doleful, yet now seemingly entirely necessary interlude of sorts pertains to the burgeoning passion of the most intensely tense, yet absolutely essential cinematic denouement never committed to celluloid. Only featuring the cherubic voices of the Efterklang choir triumvirate, the overall effect is, once more, somehow ecclesiastical thereby imbuing it with the feel of a carol concert. But as with every song – live or otherwise – it is destined to die out from the moment it comes into existence, and soon fades out into stillness; a whispering silence: slow and solemn, yet as sure as the changing of summer to autumn; autumn to winter. Although even the jingle of a recalcitrant ringtone in its closing moments does nothing to diminish its brilliance. "You guys sounded amazing", Clausen avows as he vocally broadcasts a vote of infallible confidence and indeed they truly did.
As, of course, does The Ghost. The fluttering horns of The Polyphonic Spree at their most florid kick up, and engender that unyielding optimism spring brings with it each and every time. It's an immaculate juxtapositioning that ushers us back into the realm of the recognised and as Clausen appositely intones: "Takin' it up/ You take me up" it elevates the mood like few other compositions could. A mesmeric groove paired up with these mantric vox that gradually bubble over into a
Screamadelica
sorta ecstasy, subjectively speaking, it's their finest recording to date. When recited live, however, it somehow becomes exponentially, almost unspeakably better. It's a latter-day wonder, and it stupefies in arrant seduction. Furthermore, it serves to elucidate how expertly crafted
Piramida
is as a coherently put-together whole: as it transforms into the smoothly rhythmic and faintly bluesy Black Summer, the consistent splendour of the record becomes ever more manifest. It's a record to be indulged in start through finish, which is alas an oddity in this day and age I fear. But it's odd in itself that the progression from song to song now feels so natural, thereby arousing a sense of the expectant. And just as you wouldn't dare jumble the age-old climatological ordering of the seasons for fear of throwing all existence off-kilter, neither would you tinker with the flow of
Piramida
. To have Told To Be Fine segue into Apples would be, well, like experiencing a Black Summer, basically.
That said, lamentably, Dreams Today is tonight omitted. The show only came into a vibrant shade of life with The Ghost, and perhaps its slightly more sombre tones may have subdued a little too much. As it is, in skipping to a tonight rather Reichian Between The Walls, they ensure the show mounts as does every year as it grows into itself, consolidating its identity and thereby intensifying day by day up until the summer solstice – the point at which nights are all but nonexistent within the Arctic Circle – when henceforth it only slumps. But
The Piramida Concert
never suffers such a fate, as this one sees Clausen stretch out and recline onstage, electronics spluttering and an exhilarating chorus combed about him. It ends in a jumble of post-playground sounds, evocative of a reconstructed
Gloss Drop
and again, the inspiring commingling of being is paramount. They may, Efterklang aside, operate with an almost mechanical efficiency, yet the overriding impression is so unmistakably human; so faultlessly melodious.
This main event crumbles into fragments of memory, as does
Piramida
, with Monument. Foreworded by an interactive explanation of where and what exactly Piramida was, and
Piramida
now is, the building blocks from which it was made – those frequently cited field recordings – creep back in. Warped and contorted beyond identifiable origin, although we may wholly anticipate every irregular sonic interjection, each one retains that same ingenuity it carried when it first emerged from the ether of the unknown to fabricate yet further joy.
As their setlist then dictates in an adorably stilted English,
at this point the band come off stage
.
They are, inevitably, to return as Monopolist – lifted from '04 début LP
Tripper
– brings about a stark shift in direction. It's of a more introverted previous and although it still whisks us away into a realm of sparse beauty; one bursting at the seams with opportunity and optimism, it is markedly
different
. Herein we find fear; Clausen on his knees, moaning: "Save me from myself." It's an egotism that's at odds with the naturalistic scoring and lyrics of the Homo sapiens' inconsequentiality in relation to nature that tonight precedes it, and Casper is far preferable when demanding our attention than when pleading for another's mercy but in no way does it make for an encore that is extraneous to the context of what proves an irrefutably exultant night.
"It feels a little sentimental" he shrugs reticently, once returned to his feet. "Let's celebrate it instead", he then guffaws and in doing so, he galvanises the experience. He here galvanises audience and artist too, tiptoeing across arms of plus semi-detached chairs to deliver Modern Drift from the calm mêlée before him. In doing so, he reconnects with the heaving multitude; with his people and in closing with the
Magic Chairs
standout, they leave on a high. It's a more logical continuation of what they're now producing in comparison with Monopolist, and is arguably the most rational conclusion thinkable. With that, it is hugely celebratory. Another of the evening's now uncountable successes. It may now be almost undoable to eradicate the indelible Audi voiceover from its triumphant uprush, although it's pristine as anything newly released by the
Vorsprung durch Technik
brigade. It culminates in Stolberg sharing a vigorous high-five with de Ridder, and this moment alone epitomises just how seamlessly the worlds of the classical and the contemporary may be combined. That's what the Barbican Centre, to me, is all about and tonight only deepens the profound realisation as to just how special both
Piramida
and this unequaled arts centre really are.